Moorestown Attorneys
We Find The Best Solutions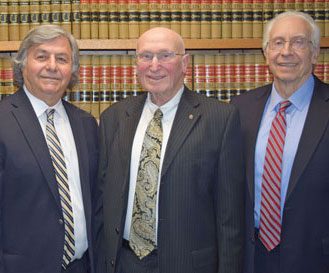 We have only one simple mission when we welcome you into our family. That mission is to meet either or both your personal and business legal needs to the best of our firm's combined abilities.
Those abilities enable us to draw on many years of combined experience. During that time we have forged valuable contacts and tried a large variety of cases in the halls of justice. We have also gathered an experienced and extremely knowledgeable staff to support us in these efforts.
Our devotion and joy lie in serving our clients effectively. We will literally do whatever it takes to meet your expectations in a friendly and professional manner.
We represent clients in the following areas: major personal injury claims, workers' compensation claims, front line essential workers' COVID-19 compensation claims, all aspects of commercial real estate and residential real estate transactions, purchase and sale of businesses, commercial corporate law, representation of public entities, estate administration and estate planning as well as preparation of wills and trusts.
Call Taenzer & Ettenson, P.C. today at 856-235-1234 or scroll up and use the Contact form above.