Why Choose Us
We find the best solutions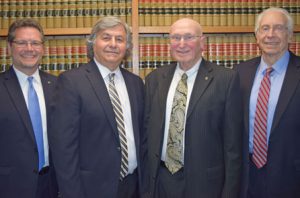 Meet Our Attorneys
Left to Right
The firm of Taenzer, Ettenson & Aberant, p.c. has been located in the heart of Moorestown, New Jersey since 1979. The firm was founded in Cinnaminson by Uri Taenzer in 1965.
We are four friendly and dedicated lawyers who strive to serve our clients with courtesy and respect. Telephone calls are returned promptly. Our clients are kept informed of pertinent developments in all matters, large or small. Our experienced support staff consists of five professional legal assistants.
Our practice is designed to meet the personal and business needs of our suburban clientele. We represent clients in major personal injury and workers compensation matters, all aspects of commercial and residential real estate transactions as well as municipal court matters, preparation of wills, trusts and estate administration. We also represent property owners and developers in land use applications before local zoning and planning boards.
While devoted to serving our clients effectively, drawing on many years of experience, and while we have forged valuable contacts and tried a large variety of cases in the halls of justice, our focus is also directed to community service.
Uri Taenzer, received his undergraduate degree from Rutgers University and his JD degree from Rutgers Law School in Camden. He is the firm's founder–in 1964. Uri served as president of the Burlington County Bar Association in 1983-1984. Mr. Taenzer has served on the boards of numerous organizations. For many years he was a Trustee of South Jersey Legal Services (formerly Camden Regional Legal Services). He is past Chancellor and trustee of Rutgers Law School/Camden Alumni Association. He is past-president of the Willingboro Rotary Club. In 1991, he was named Willingboro Township Business and Professional Person of the Year. In 1984 he received the Rutgers University Federation's Meritorious Service Award.
Mr. Taenzer is a member of the Burlington County, Camden County and New Jersey State Bar Associations as well as ATLA-NJ, the Association of Trial Lawyers of America — New Jersey. A former municipal court judge in Willingboro and Burlington Townships, Mr. Taenzer resides in Willingboro Township where he has serves as Planning Board Solicitor for the past 27 years. He is admitted to practice in all New Jersey courts, since 1963, as well as the federal courts in New Jersey, the Eastern District of Pennsylvania and the Third Circuit Court of Appeals. Uri is married to Marlena Taenzer and is also the father of Laura, Kevin Aberant's wife.
Mr. Taenzer concentrates his practice in the area of significant personal injury accident and professional liability claims on behalf of the injured. His PI practice includes workers compensation matters. A significant aspect of his practice involves estate planning, preparation of wills, living wills, durable powers of attorney, health care powers of attorney, trusts and administration of decedent's estates.
Alan Ettenson received his undergraduate degree from Rutgers University in 1968, and earned his law degree from Suffolk University Law School in 1972, where he was a member of the Law Review. He was admitted to the Bar in Massachusetts and New Jersey in 1972. He has been a partner in the firm since 1979.
Mr. Ettenson concentrates his practice in the areas of commercial and residential real estate, the purchase and sale of businesses, representation of business entities, commercial litigation, representation of clients before zoning and planning boards, and commercial transactions.
He is a member of the New Jersey State, Camden County and Burlington County Bar Associations. He has been a member and Chair of the District IIIB Ethics and Fee Arbitration Committees.
Mr. Ettenson resides in Cherry Hill with his wife Diana. They are the parents of Adrian and Hilary.
Kevin Aberant served the Township Moorestown as its first Democratic mayor for four years, having been elected to Township Council in 2003. Mr. Aberant attended Rutgers University-Cook College where he earned a degree in Environmental Management in 1991. He obtained his law degree from Vermont Law School Cum Laude in 1994. He has been a partner in the firm since 1999.
Mr. Aberant's practice encompasses the areas of civil litigation, real estate and business transactions, consumer bankruptcy, and representing clients in Municipal Court. Mr. Aberant's practice also includes personal injury claims, workers compensation matters, expungement of convictions and name change applications. He is admitted to practice in the state and federal courts of both New Jersey and Pennsylvania.
Kevin's professional activities include membership in the Burlington County Bar Association and service on the District IIIB Fee Arbitration Committee, where he served as a panel chair for two years.
In addition to his professional activities, Mr. Aberant is deeply committed to community service. As mentioned above, Kevin has served as Mayor of the Township of Moorestown, a community of 20,000 residents with an annual budget of $22,000,000. During his tenure in 2005, the township was named as "The Best Place to Live in America" by Money Magazine. He has been involved with all aspects of municipal government, including planning and zoning, public finance, and labor agreements. He is currently Township Solicitor for the Township of Moorestown and Planning Board Attorney for the Township of Burlington.
Mr. Aberant was president of the Moorestown Business Association from 2000 through 2004. He is a board member of the Moorestown Rotary Club and he was also on the Board of The Tender, a non-profit organization which provides adult day care, Alzheimers respite services and transportation assistance for homebound seniors. Kevin was a member of the Moorestown Theatre Company cast in productions of Oklahoma and the Wizard of Oz. He has also received the Eagle Scout Award.
Kevin resides in Moorestown with his wife Laura and their two daughters.
After graduating Suffolk Law School in 1972, Mr. Friedman became a partner of the firm, then known as Taenzer & Friedman, until his appointment in 1997 (by Governor Christine Whitman) to the Workers Compensation bench.  Following his retirement as Judge of Workers Compensation in December, 2020, he rejoined the firm as of Counsel.  Joshua Friedman's practice focuses on representation of clients in workers compensation claims.  He looks forward to providing legal services on behalf of Essential Employees who, after contracting COVID-19 in the course of their employment, continue to experience long-term residual disabilities.  
Mr. Friedman graduated Suffolk Law School in 1972. He was a partner in Taenzer & Friedman until 1997 when he was appointed as Judge of Workers Compensation. He rejoined us in December, 2020 following his retirement from the bench.
You can be confident that the attorneys and staff of Taenzer, Ettenson & Aberant, p.c. will represent you in connection with your personal and business legal needs in the best tradition of the legal profession, maintaining the highest ethical standards in strictest confidence. In addition, we will strive to resolve your matter to your complete satisfaction as promptly, efficiently and as affordably as possible.