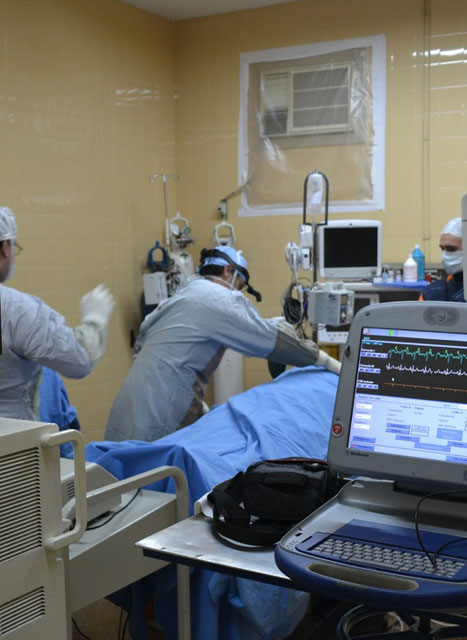 COVID-19 Workers' Compensation Claims and Benefits
You Have Benefits As An Essential Worker or Dependent
---
Anyone suffering from COVID-19 who has been infected in the course of "Essential Employment" and who suffered temporary, permanent or partial-permanent disability is presumed to be entitled to workers' compensation benefits under New Jersey's workers' compensation benefits law.
Dependents of "Essential Employees" who passed away due to the COVID-19 virus infection are also entitled to a prima facie presumption (i.e. correct unless proven otherwise) of compensability. Unless there is proof that the illness was not work-related, it is deemed to be compensable under the employer's workers' compensation insurance policy.
Are you, or were you, an "Essential Employee" (not working from home)? Are you displaying "long hauler" symptoms? Scroll down to a tab below to learn more.
Workers' Compensation Benefits and Eligibility
Workers' compensation benefits include medical care, temporary disability benefits, permanent disability benefits and dependency benefits to dependents of employees, now also including "essential employees," who died as a result of contracting COVID-19.
Proof by any employee, be it an "essential" or non-essential worker, that he or she contracted COVID-19 at work does not relieve the employee (who is also called the "petitioner") from having to prove that the impairment suffered restricts bodily function or lessens the ability to work or perform non-work-related tasks.
We can help gather your evidence to support your claim.
We Represent Your Interests!
The law provides for a "rebuttable presumption" of compensability. However, the employer's insurer will contest these claims by attempting to overcome this presumption. They will attempt to prove (by a preponderance of the evidence) that the illness was more likely than not, contracted from someone or somewhere other than in the course of employment.
This is entirely understandable since the insurer is working in their self-interest. That is why you need the services of Taenzer & Ettenson, P.C. to represent your interests.
Our firm has successfully represented petitioners in workers' compensation cases in New Jersey since 1964. Joshua Friedman, and the staff of Taenzer & Ettenson, P.C. are thoroughly experienced in handling accident-related and occupational workers' compensation matters.
Call Us Today!
Were you diagnosed with COVID-19 while employed as an "Essential Employee" in New Jersey and believe you contracted the virus at work and are experiencing "long haul" symptoms?
Are you a spouse or dependent of an "Essential Worker" in New Jersey who passed away after having contracted COVID-19?
Then contact Joshua Friedman, retired Judge of Workers' Compensation, or Uri Taezner or another experienced member of our firm for a confidential, no-obligation consultation to evaluate your case and guide you on how to proceed.
Call us at 856-235-1234, email Joshua Friedman or use our Contact form.
Our firm appears in workers' compensation courts throughout southern New Jersey, most frequently in the following New Jersey vicinages (districts) of Burlington, Mount Holly, Camden, Trenton, Atlantic City and Bridgeton Counties. We have also appeared infrequently in Toms River, Freehold and New Brunswick Counties. Vicinages where we have not represented clients include Hackensack, Jersey City, Lebanon, Mt. Arlington, Newark, Paterson and Plainfield Counties.
All fees in Workers Compensation cases are subject to approval by the court upon conclusion of the case. Consequently, you will not be charged any fees until your case is successfully concluded.
Essential Employees
Catch-All Jobs
Long Hauler Symptoms
Please Note
Essential employees include:
Public safety workers or first responders, such as "any fire, police or other emergency responders."
Individuals who provide "medical and other healthcare services, emergency transportation, social services, and other care services, including services provided in health care facilities, residential facilities, or homes."
Workers who interact directly in close "physical proximity" with members of the public and are considered "essential to the public's health, safety, and welfare. These workers include transportation services, hotel and other residential services, financial services, and the production, preparation, storage, sale, and distribution of essential goods such as food, beverages, medicine, fuel, and supplies."
"Any other employee deemed an essential employee by the public authority declaring the state of emergency," is a catch-all category.
The catch-all provision, Executive Orders 103, 104, 107, and 110, all signed back in March 2020, provide over thirty specific types of jobs that are considered essential, including those who work in the construction industry.
Typically, "Long Haulers" experience a variety of disabling symptoms.
Among those commonly observed diagnoses known at this time are the following chronic lingering conditions:
Lung damage and undifferentiated connective tissue disease and shortness of breath
Ongoing debilitating profound fatigue and exhaustion
Body aches or joint pain
Loss of taste and smell (even if this didn't occur during the height of illness)
Insomnia, headaches, brain fog, depression, heart disease and/or stroke
Impairment of renal and cardiovascular function
Ongoing hypercoagulability
Myalgia and other persistent physical and psychological effects
Essential Employees" (not working from home) when diagnosed with COVID-19 (SARS-CoV-2) after March 9, 2020 in New Jersey are presumed (unless proven otherwise) to have been infected at work.
They are entitled to Workers' Compensation benefits under an amendment to the law signed by Governor Phil Murphy (A-3999/S-2380) on September 14, 2020.
The legislation also specifically states that employees of the government or other public agencies who are afforded the ability to work from home, but still elect to work at their place of employment, are not covered by the statute.