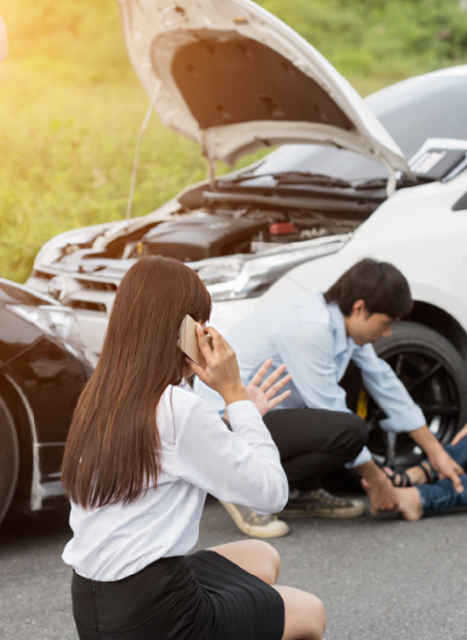 Personal Injury Claims
You Deserve Personal Attention
---
A serious injury is not only painful, it is also an emotionally devastating experience. This is a very specialized area of law that requires the expertise of an experienced Personal Injury Lawyer. If you have been in an accident in which you suffered a serious injury, all legal aspects of your physical, financial, and emotional losses must be considered. For over 40 years, our firm, which began its life in Cinnaminson as Taenzer & Friedman, and is now known as Taenzer, Ettenson & Aberant, p.c. located in Moorestown, has successfully represented individuals who have suffered serious injuries or wrongful death from automobile and workplace accidents, motorcycle accidents, slip and fall, dog bite, nursing home, product liability, professional negligence and other personal injury related claims.
We will do our best to answer all of your questions, resolve all issues to your satisfaction, and get you properly compensated. Our firm will first investigate the facts of the accident to determine the issue of any liability. As your attorneys and support staff we will gather the facts of the accident and, if necessary, engage investigators, accident reconstruction experts, photographers, and forensics experts. We will assist you if you have any concerns about the proper medical attention for your present and future medical needs.
As bad as your injury is from your accident, the insurance carrier will usually not willingly compensate you for your pain and suffering. Insurers may contend that you were at fault or partly at fault, and they will minimize the extent of your injury.
Taenzer, Ettenson & Aberant, p.c. will fight to make sure you receive the compensation which you deserve. Our proven track record, hard work, excellent reputation, persistence, and most of all, over 40 years of experience, are all factors working on your behalf.
You deserve Personal Attention! We and the legal support staff at Taenzer, Ettenson & Aberant, p.c., will do our utmost to satisfy you. We will represent you against the person, company or place of employment which caused or contributed to your injury, and against their insurance carrier.
Most importantly, we will be sensitive, caring, and passionate to all your needs. You are our client, and we will never forget that.
Unless you prefer to pay an hourly fee, we do not charge any fees unless and until we win your case. Our fees are based on a reasonable percentage of the amount we obtain for you. We will do everything possible to settle your serious injury case out of court. Based upon our experience, reputation, success, and diligent preparation of each case, most of our cases are settled without going to trial.
If you or a loved one have suffered from a serious injury, Taenzer, Ettenson & Aberant, p.c. would like to help you. Please call us at (856) 235-1234. Home consultations are also available.
Motor Vehicle Accidents
Workers Compensation
Professional Malpractice
Nursing Home Abuse-Neglect
A majority of persons injured as a result of motor vehicle accidents in New Jersey will be subject to the Verbal Threshold. Unless your injury was due to the negligence of the operator of a truck, the odds are that you are bound by the Verbal Threshold also known as Law Suit Threshold selection which was made when the automobile insurance policy covering the vehicle in which you were injured was issued. Consequently, your right to recover damages for non-economic losses, including pain and suffering, will require proof of the following: Death, Dismemberment, Significant disfigurement or scarring, Displaced fracture(s), Loss of a fetus or, most commonly, permanent injury (when a body part has not and will not heal to function normally).
The decision of whether to pursue a claim arising out of a motor vehicle collision depends on multiple factors.
Generally, where the "Verbal Threshold" applies, before a case is deemed meritorious, proof of a permanent injury is required (when no death, dismemberment, displaced fracture or significant scarring, etc. has occurred). A treating physician's certification, under oath, must be obtained.
We at Taenzer, Ettenson & Aberant, p.c. will be pleased to review your automobile-related claim. We will answer your questions and we will assist you. If we accept your case, we will also assist you to obtain payment of your medical expenses from your automobile insurance carrier (if you have opted for the Standard policy).
Generally, if an employee is injured on the job in New Jersey, he or she may recover certain benefits under 'Workers Compensation:'
Workers' Compensation is an insurance system. Unless qualified as a 'self insured,' all employers must have workers compensation insurance for the protection of employees.
It doesn't matter whether or not the injury is the result of an accident which is due to someone else's fault, (with very few exceptions) if it happened on the job, the employer's workers compensation insurance carrier must cover the claim. The flip side of this is that employees in New Jersey cannot sue their employers for ordinary negligence. The workers compensation system is administered by the New Jersey Department of Labor. This system has definite limitations. For example, employees can recover only set maximum amounts, regardless of how much their income was.
The benefits which are paid by Workers Compensation are: Medical expenses, Temporary Disability Benefits and Permanent Disability Benefits. The latter may consist of 'Partial Total Disability' or 'Total Disability.' In New Jersey, the employer's workers compensation insurance carrier gets to pick the medical providers who will furnish treatment and other medical services (subject to judicial review).
At Taenzer, Ettenson & Aberant, p.c., we have been dedicated to helping injured workers throughout Southern New Jersey for nearly forty-five years. We constantly stay abreast of changes in workers compensation law that could affect our clients.
It is extremely important that you contact a workers compensation lawyer as promptly as possible after the injury. Your employer must have notice of your injury as soon as possible and if you do not file a claim within the allotted time frame, you could lose the right to benefits.
Workplace Injury Lawyers
Often when people think of workplace injuries covered by workers compensation, they envision construction workers falling or electrical engineers being burned or shocked. However, we routinely represent clients in a wide variety of industries, including health care workers, automobile and truck operators, secretaries, and laborers. While we handle many one-time injuries, like falls, burns, and bone fractures, we also handle cases related to repetitive stress injuries (RSI), such as carpal tunnel, and 'occupational' claims involving cumulative exposure to various toxic substances or repetitive trauma.
Workers' Compensation Claim Denied?
As mentioned above, under the New Jersey workers compensation law, injured workers are required to be treated by an employer-selected doctor. At Taenzer, Ettenson & Aberant, p.c. we understand that many employers have doctors willing to let people return to work even before they have recovered from their injuries. We will handle claims and, if appropriate, file motions on behalf of injured clients to secure medical and temporary disability benefits a in the Division of Workers Compensation for these workers.
We also handle cases for people who have had their workers compensation claims denied. If you have been injured at work and need a law firm that has over 45 years of experience helping injured workers, please contact Uri Taenzer or Kevin Aberant at Taenzer, Ettenson & Aberant, p.c. immediately. We appear in workers compensation courts throughout Southern New Jersey, most often in Burlington and Camden Counties.
Our firm has handled many meritorious professional malpractice cases with successful outcomes over the years, including both Medical Malpractice, Legal Malpractice, Nursing Home and other professional negligence claims.
Uri Taenzer, Alan Ettenson and Kevin Aberant will be happy to discuss your potential professional liability case with you.
This is a very complex area of the law. Mere disappointment in the outcome of your medical treatment or a disappointing experience in the legal system will not suffice. Proof of significant deviations from acceptable norms supported by an Affidavit of Merit (from a professional who is in the same practice) as well as substantial damages are among the factors which determine whether it is likely that your case will have a successful outcome.
Understandably, a suit alleging professional negligence impugns the integrity, know-how, education and training of a licensed professional. He or she, supported by insurance carriers with deep pockets, will strenuously resist any voluntary resolution.
At Taenzer, Ettenson & Aberant, p.c., we will always extend ourselves to listen to your concerns and, if appropriate, to investigate further by having medical records or other documents carefully reviewed by qualified consultants.
If we deem your case to be meritorious, we will represent you vigorously. If you choose, in most cases, we will litigate your claim on a contingency basis, taking into consideration the fact that a substantial investment in time and funding is required to support these claims.
We look forward to assisting you in connection with your professional liability claim.
Taenzer, Ettenson & Aberant, p.c. attorneys are dedicated to nursing home reform. Nursing home abuse is becoming more and more common. Nationwide, the number of nursing home negligence cases is increasing. Nursing home abuse can be physical or psychological. It can also take the form of neglect. Whatever the form, abuse of nursing home residents must be stopped. The first step is recognizing the warning signs.
COMMON WARNING SIGNS OF ABUSE OR NEGLECT:
Bedsores (also called "pressure sores")
Cuts, open wounds, or frequent bruising
Personal items torn or broken
Bruises that suggest physical restraints were used
Sudden, severe weight loss
Jaundice or an abnormally pale complexion
Poor personal hygiene or strong fecal/urine odors
Fleas, lice, rodents, or other pests or parasites in the room
Other unattended health problems
If your loved one exhibits any of these warnings signs, do not assume that the situation will resolve itself or that turning a blind eye will make it go away. Protect your loved one and help protect the loved ones of others.