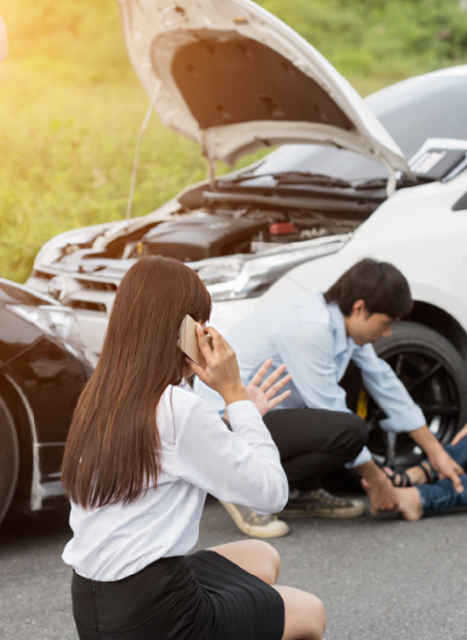 Personal Injury Claims
You Deserve Personal Attention
---
A serious injury is not only painful, it is also an emotionally devastating experience. This is a very specialized area of law that requires the expertise of an experienced Personal Injury Lawyer. If you have been in an accident in which you suffered a serious injury, all legal aspects of your physical, financial, and emotional losses must be considered. Since 1964 Taenzer & Ettenson, P.C., located in Moorestown, has successfully represented individuals who have suffered serious injuries or wrongful death from automobile and workplace accidents, motorcycle accidents, slip and fall, dog bite, nursing home, product liability, professional negligence and other personal injury related claims.
We will do our best to answer all of your questions, resolve all issues to your satisfaction, and get you properly compensated. Our firm will first investigate the facts of the accident to determine the issue of any liability. As your attorneys and support staff we will gather the facts of the accident and, if necessary, engage investigators, accident reconstruction experts, photographers, and forensics experts. We will assist you if you have any concerns about the proper medical attention for your present and future medical needs.
As bad as your injury is from your accident, the insurance carrier will usually not willingly compensate you for your pain and suffering. Insurers may contend that you were at fault or partly at fault, and they will minimize the extent of your injury.
Taenzer & Ettenson, P.C. will fight to make sure you receive the compensation which you deserve. Our proven track record, hard work, excellent reputation, persistence, and most of all, our decades of experience, are all factors working on your behalf.
You deserve Personal Attention! We and the legal support staff at Taenzer & Ettenson, P.C., will do our utmost to satisfy you. We will represent you against the person, company or place of employment that caused or contributed to your injury, and against their insurance carrier.
Most importantly, we will be sensitive, caring, and passionate about all your needs. You are our client, and we will never forget that.
Unless you prefer to pay an hourly fee, we do not charge any fees unless and until we win your case. Our fees are based on a reasonable percentage of the amount we obtain for you. We will do everything possible to settle your serious injury case out of court. Based upon our experience, reputation, success, and diligent preparation of each case, most of our cases are settled without going to trial.
Motor Vehicle Accidents
A majority of persons injured as a result of motor vehicle accidents in New Jersey will be subject to the "Verbal Threshold". Unless your injury was due to the negligence of the operator of a truck, the odds are that you are bound by the "Verbal Threshold" also known as Law Suit Threshold selection which was made when the automobile insurance policy covering the vehicle in which you were injured was issued. Consequently, your right to recover damages for non-economic losses, including pain and suffering, will require proof of the following: death, dismemberment, significant disfigurement or scarring, displaced fracture(s), loss of a fetus, or, most commonly, permanent injury (when a body part has not and will not heal to function normally).
The decision of whether to pursue a claim arising out of a motor vehicle collision depends on multiple factors.
Generally, where the "Verbal Threshold" applies, before a case is deemed meritorious, proof of a permanent injury is required (when no death, dismemberment, displaced fracture or significant scarring, etc. has occurred). A treating physician's certification, under oath, must be obtained.
We at Taenzer & Ettenson, P.C. will be pleased to review your automobile-related claim. We will answer your questions and we will assist you. If we accept your case, we will also assist you to obtain payment of your medical expenses from your automobile insurance carrier (if you have opted for the Standard policy).
If you or a loved one have suffered from a serious injury or a motor vehicle accident, Taenzer & Ettenson, P.C. would like to help you. Please call us at 856-235-1234. Home consultations are also available.